VISITOR INFORMATION AND GUIDANCE
DIGITAL MAP
Navigate yourself around Luton town centre by downloading our new digital map – which includes details about the new pedestrian one way system, new road layouts, cycle routes and bike stands, pedestrian only areas, transport hubs and information points.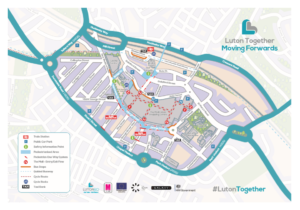 In summary:
Information points are located in four key areas of the town in Manchester Street, Bute Street, The Mall and Chapel Street with details of changes you can expect to see in the town. These information points signpost visitors to this website which will update on a regular basis.
Floor graphics and signage are in place to remind people to follow social distancing rules and to advise shoppers where to queue outside individual shops, and where the entry points are to the Mall.
There is a 'traffic light system' in place at the The Mall Luton to control access and ensure that the Mall does not become overcrowded.
George Street has signage in place with pedestrians directed up one side and back down the other.
Some street furniture has been removed including the pagodas to allow free movement however there is still plenty of seating available for visitors.
Marshalls are on hand in the town to help manage any queues and encourage social distancing.
There is regular, enhanced cleaning of touch points such as railings as well as hand sanitising stations at 4 sites in the town as well as in The Mall.
Businesses in operation – who has reopened?

Businesses in the town centre are reopening but often with reduced hours or are working differently to provide goods and services.

Click on the following links for a list of businesses and their status (please note that this is always subject to change in the current climate – these are not definitive lists)

Retail businesses, shops & stores (updated 14th September 2020) – click HERE.
Travel
Vehicle closures at certain points on Chapel Street are in place so pedestrians can move safely.
Car parking charges have been reinstated in council owned car parks and at the Mall to help support the reopening of the town, by encouraging a turnover in availability of parking places.
Face coverings for all customers on all Luton bus routes is a legal requirement.
Please keep updated by visiting the Luton Borough Council website HERE.
Further Information
Luton Borough Council
For further information on the changes to the town centre and safety measures in place please click HERE.
The Mall
Face Coverings must be worn at all times in every part of The Mall unless you are exempt. Further information on the measures put in place at The Mall HERE.
For a short film on the measures in place in The Mall please click HERE.
You can find Frequently Asked Questions on the Mall safety measures answered HERE.
For information on businesses open in The Mall please click HERE.
Business support and advice

We would like to assure all BID businesses and town centre visitors that we are here to offer advice and support.

Please do not hesitate to contact us if there are any specific concerns affecting your business you would like to discuss with the team: email info@lutonbid.org

We continue to be in close contact with Luton Council and will update levy-payers as advised by official sources.

Read our Luton BID Business Support report HERE – updated with the latest information on 17th September, 2020.

Luton Council Reopening Information Pack HERE

Read our full list of PPE suppliers HERE.

Bedfordshire Police have also shared these two Crime Prevention Advice and Information documents:

For the latest official guidance, here are some useful links

More specific guidance in relation to employees, employers and businesses

More useful advice and guidance around employment law is available from the CIPD HERE

Business advice

Loans and grants are available for small businesses in the wake of the Coronavirus crisis and the government has set up the Business Support Helpline (England)

Click HERE . Or call 0300 456 3565, Monday to Friday, 9am to 6pm.

For further details about business support read our full Luton BID update news story HERE.